The Versatile blogger award
*drum roll*
Dame i gospodo (znam da vas ima!) došao je i taj trenutak! Tag za
Versatile Blogger Award
je došao i do mene, čak nekoliko puta, tako da - hvala svim divrnim ženama koje su me tagirale. ☺Vjerujem da većina vas već zna što je Versatile Blogger Award i da ste vjerojatno već pročitalo dosta ovakvih postova, no mislim da nije na odmet ponovno spomenuti. Versatile Blogger Award se dodjeljuje blogerima sa zanimljivim, kvalitetnim sadržajem i dobrim stilom pisanja. Nominirane osobe trebaju napisati sedam činjenica o sebi, te nominirati petnaest blogova.
Ladies and gentlemen (I know you're out there!), the moment has come! Versatile Blogger Award tag has reached me, several times, so - thank you, dear ladies, for tagging me. ☺ I believe most of you know what Versatile Blogger Award is and that you've already read a lot of posts like this, but I think it's worthwhile mentioning it again. Versatile Blogger Award is awarded to bloggers with interesting, quality content and good writing style. Nominated people need to write seven facts about themselves and tag fifteen other blogs.
Pa da počnem.
So, let's start.
1. I'm a coffee addict
Ja obožavam kavu! Mogu popiti hektolitre kave! U 99% slučajeva kad me netko pita želim li kavu, odgovor je potvrdan, bez obzira jesam li ju upravo popila. Ali opet je previše krvi u mome kofeinskom sistemu. ☺ Tko god me zna, zna koliko volim kavu - pa sada znate i vi. ☺
I love coffee! I can drink gallons of coffee! In 99% of cases when someone asks me if I want coffee, the answer is yes, regardless have I just drunk it or not. But still, there is too much blood in my caffeine system. ☺ Anyone who knows me, knows how much I love coffee - so now you know, too. ☺
2. Black is such a happy color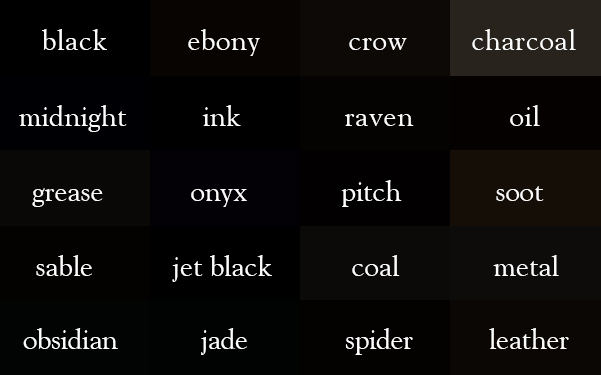 Netko crnu smatra depresivnom nijansom, no ona kod mene budi takvu radost. Najsretnija sam i najbolje se osjećam kad sam od glave od pete u crnom. ☺ 95% moje odjeće je crno i mrzim kad mi se nijanse ne slažu. ☺ I po mom skromnom mišljenju crna je najelegantnija boja. Moj stari mene i moje prijatelje sličnog stila zove "šišmišari". ☺ Nije to samo zato što volim metal glazbu, a opet ne smatram se ni ful metalcem ni gotičarem. Ja sam
Sith
. (pogledaj stavku 6)
Some people consider black to be a depressive shade, but it brings me such joy. I am the happiest and feel best while wearing black from head to toe. ☺ 95% of my clothes is black and I hate when my blacks don't match. ☺ Also, in my humble opinion, black is the most elegant color. My dad calls me and my friends in similar style "bat people". ☺ It is not just because I love metal music, yet again, I don't consider myself to be a total metalhead or goth. I am Sith. (see paragraph 6)
3. I'm a bitter old hag
Ja sam ogorčena stara baba. Meni puno stvari ide na živce i stalno prigovaram. Iako ću mnogo puta izgledati kao da me ništa ne dotiče, u sebi bacam bombe na sve oko sebe. Ja se iznerviram čim pređem prag, od baba "mahaluša" koje nemaju pametnijeg posla nego samo gledati i komentirati šta se u tuđim životima događa, do nekulture, cigana i previše zadimljenih kafića. Većina ljudi mi ide na živce. No neću sada puno dužiti ovdje o tome jer će se post pretvoriti u "What grinds my gears #2". ☺ Često i sama sebi idem na živce... Također, ovim putem vas molim da me poštedite komentara "nemoj se nervirati, nije ti to zdravo."
I'm a bitter old hag. A lot of things grind my gears and I constantly grumble. Although many times I look like nothing bothers me, inside I throw bombs at everything. I get annoyed the moment I step outside, from hags who have no better things to do but to watch and comment on what's going on in other people's lives, to lack of culture, gypsies and too many smoked up cafes. Most people are getting on my nerves. But I won't prolong this much because this post will turn into "What grinds my gears #2". ☺ I often get on my nerves, myself... Also, I hereby ask you to spare me from "don't worry so much, it's not healthy" comments.
4. I consider myself an optimist
Iako je ovo suprotnost stavki 3., ja sam u većini slučajeva optimista. Naravno, imam u vidu da se i loše stvari mogu dogoditi, no uglavnom se nadam pozitivnom ishodu. Dogodi se, naravno, i trenutaka kad osjetim da me hvata panika, ali onda sama sebi opalim koji imaginarni šamar i uvjeravam se da će sve dobro završiti. I u većini slučajeva i završi tako. ☺
Although this is opposite of paragraph 3., I am an optimist in most cases. Of course, I keep in mind that bad things can happen, but I mostly hope for a positive outcome. There are moments, of course, when I feel like panicking, but then I slap myself in my mind few times and assure myself that everything is going to be ok. And in most cases it turns out that way. ☺
5. I am an animal lover
Ova slika me jako dobro opisuje. Ja jako volim životinje. Mislim da nije bilo trenutka u mom životu da nisam imala kućnog ljubimca. Draže mi je društvo životinja, nego ljudi. S njima nema drame, laži, tračanja....samo mir. Ili kaos - u slučaju da imate mačku. ☺ Nisam ni cat person ni dog person, već oboje. Naš obiteljski pas je osoba u tijelu psa. I uvijek ću za njega tvrditi da je bolji od dosta ljudi.
This picture describes me well. I like animals very much. I think there hasn't been a moment in my life in which I didn't have a pet. I prefer animals' over human company. There is no drama with them, no lies, gossip... just peace. Or chaos - in case you have a cat. ☺ I am neither cat or dog person, but I like both. Our family dog is a person inside of dog body. And I will always claim that he is better than most people.
Pom Pom

☺
6. Star Wars
Ja jako volim Star Wars. Kao mala sam ga voljela, volim ga i sad, nema veze šta je Hayden Christensen užasan, užasan kao Anakin i Jar Jar je jedan od najiritantnijih likova. Gledala sam svih šest epizoda puno puta i nikad mi nisu dosadili i veselim se što izlazi sedmi dio. I naravno, Darth Vader mi nije najdraži lik, moja velika ljubav je Darth Maul.... koji je trebao dobiti više pažnje od Jar Jar-a.... hate za to!

I really like Star Wars. I loved it as a child, I love it now, regardless of Hayden Christensen being a horrible, horrible Anakin and Jar Jar being one of the most irritating characters. I've watched all six episodes many times and I never got bored and I'm looking forward to part seven. And of course, Darth Vader is not my favorite character, my greatest love is Darth Maul... which should have gotten more attention than Jar Jar ... hate for that!
7. I hate winter
Jako sam zimogrozna i mrzim zimu i hladnoću. Mrzim što moram nositi tristo slojeva odjeće da mi bude toplo. Mrzim kad dođem negdje pa moram skinuti tih tristo slojeva odjeće. Mrzim kad mi se lice ukoči od zime. Mrzim izlaziti zimi jer je 99% kafića užasno zadimljeno i svaki put dođem kući i smrdim kao pepeljara. Smrad cigara čak više mrzim od zime. Volim sunce, volim toplinu. Lakše podnosim veliku vrućinu nego veliku hladnoću. Volim snijeg.... ali samo ga vidjeti kroz prozor tople sobe s toplom šalicom kave u ruci. ☺
I hate winter and cold. I hate having to wear three hundred layers of clothes to be warm. I hate when I go somewhere and I need to take off those three hundred layers of clothes. I hate when my face freezes. I hate going out during winter because 99% of cafes are terribly smokey and every time I get home I smell like an ashtray. I even hate smell of cigarettes more than winter. I like sun, I like warmth. I tolerate the great heat better than great cold. I like snow... but only to see it trough a window of a warm room with a cup of warm coffee in my hands. ☺
I to bi bilo sedam činjenica o meni. Nadam se da ste uživali u čitanju i da niste požalili što ste me tagirali haha. Ja neću nikoga tagirati, jer je dosta cura ovo već napisalo, već pozivam sve koji žele da napišu ovakav post da to i naprave ☺.
And that would be seven facts about me. I hope you enjoyed reading it, and that you haven't regretted tagging me, haha. I am not going to tag anyone, because a lot of girls have already written this, but I'd ask everyone who wants to write this post to do it. ☺
xx Stay Tuned xx